Mount Kilimanjaro
is located three degrees south of the equator in Northeastern Tanzania. It is the tallest mountain in Africa and is the highest free-standing mountain in the world. Of the famous highest seven peaks in the world, this is the easiest to get to and the easiest to climb. It requires no technical climbing experience, and any moderately fit person can summit the mountain.
Duration
5 days trekking from Moshi; 3 and a half days ascending, 1 and a half days descending. You can also add an additional acclimatization day and make it a 6-day trip.
Length
32 km/20 mi ascent; 64 km/40 mi roundtrip
Elevation
4,065 m/13,340 ft gain; 4,065 m/13,340 ft descent Marangu Gate (1,830 m/6,000 ft) to Uhuru Peak (5,895 m/19,340 ft) and return
Description
Marangu Route, which is the easiest and shortest route to Kilimanjaro's summit and is known as the "Coca Cola" or "tourist" route. This is the only route on Kilimanjaro with the comforts of solar-powered sleeping huts and comfortable beds at every camp. The huts are communal, and each bunk has a sponge mattress and pillow. There are 60 beds at both Mandara and Kibo Huts and 120 beds at Horombo Hut. Bathrooms and running water are available at the two lower huts. Basic men's and ladies' latrines are available at the last camp. All climbing groups, often from several countries around the world, share meals in dining huts providing a jovial and energetic atmosphere. Soft drinks, bottled water, and beer may be for sale at the huts. Bring small Tanzanian bills to purchase these items (prices increase with elevation). This route is usually done in 5 days, but you can do it in 6 days for better acclimatization. You can spend your extra day resting at Horombo or climbing to a basecamp below Kibo's sub peak Mawenzi.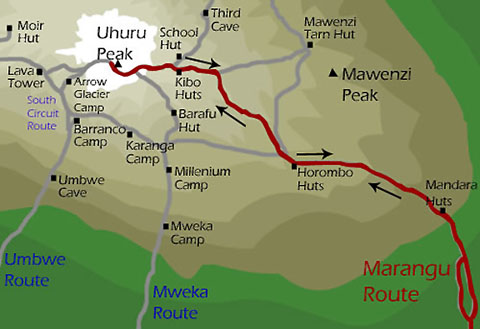 If you arrive at the Kilimanjaro Airport, you will be met at the airport and transferred to your hotel in Moshi or Arusha (airport transfer is not inclueded in the tour fare, $20/person/way from JRO). We recommend at least one rest day before starting your trek. If you are transferring from Nairobi, this can act as your rest day.
Your guide will provide a briefing the evening before your trek, and you must separate one bag for the trek from your other luggage. Rental equipment is available. Extra luggage can be stored in a locked storage room at your Moshi hotel at no charge.
The next morning, enjoy a hearty breakfast before last-minute trip preparations at the trekking office. Depending on the route you take, the drive to the trailhead can take up to one hour and can be very bumpy.
Once you reach the park gate, climbers are requested to make their final preparations for the climb and sign the national park registration book. Porters will be seen arranging their packs containing the food, water, and other equipment. Make sure that you have all your day pack items with you as the porters travel very quickly. Your guide will be pleased to assist with any additional information.
The average hiking day begins between 8-9am and is about 5 to 6 hours, walking very, very slowly. The distances you will hike each day are very moderate so as to acclimate a little at a time. Your guides will repeat over and over, "pole pole" (po-ly, po-ly), which means "go slowly" in Swahili.
The terrain lower down is absolutely gorgeous and fascinating. Higher up, the views are vast. There is little to do at the camps themselves, so take advantage of the slow pace to absorb the scenery and take every photo opportunity.
The hike to the summit starts around midnight depending on your route and speed of your group. You will go as high as you feel fit. Some people stop at the crater rim, and others continue to the very highest point on the mountain. Your guides will then take you down as quickly as possible to minimize any altitude problems. You will continue past your last campsite to the next one for overnight.