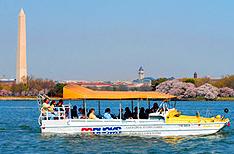 you'll see the awe inspiring monuments and fabulous Smithsonian Museums. Then at the Potomac River you'll splash down for a whole different look at the nation's capital. From the land to the water, it's ALL IN THE SAME VEHICLE!
The wise quacking captains will entertain you with anecdotes, well researched historical facts and the corniest jokes you've ever heard! Ducks depart hourly from Union Station. The 90 minute, fully narrated tour covers the mall, museums, monuments and splashing down in the Potomac.
During the tour you will enjoy a scenic river cruise, before returning to Union Station.