Mount Kilimanjaro
is located three degrees south of the equator in Northeastern Tanzania. It is the tallest mountain in Africa and is the highest free-standing mountain in the world. Of the famous highest seven peaks in the world, this is the easiest to get to and the easiest to climb. It requires no technical climbing experience, and any moderately fit person can summit the mountain.
Duration
6 days trekking from Moshi; 4 and a half days ascending, 1 and a half days descending
Length
81 km/50 mi total; 43 km/27 mi to summit; 38 km/24 mi descent from summit
Elevation
4,095 m/13,435 ft net gain; 3,915 m/12,845 ft descent Umbwe Gate (1,800 m/5,905 ft) to Uhuru Peak (5,895 m/19,340 ft) and descent to Mweka Gate (1,980 m/6,500 ft)
Description
This Umbwe is the most spectacular and direct way to reach Uhuru Peak. This route became famous when it was featured in the dramatic IMAX film Kilimanjaro - To the Roof of Africa. On the Umbwe, you pass through strange landscapes as you climb through five climate zones ranging from rainforest to the summitís glaciers. The route follows a forested ridge to the moorlands, then traverses below the southern icefields to reach the Machame Route, which you follow to the summit. This steep, tough, and in places slightly exposed trek is suitable for a fit individual used to walking in mountain areas. Because of the routeís steepness, it is seldom used, and trekking poles are useful on the steep, slippery slopes in the rainforest. All your equipment and supplies are carried by porters and a cook prepares all your meals. Unlike the Marangu Route where you sleep in huts, on the Umbwe you sleep in tents (tents are included), and the porters will pitch your tent for you. Meals are served in a dinner tent or on a blanket outside. You can add an extra day to your itinerary to explore or relax along the route (best taken at the Barranco Camp).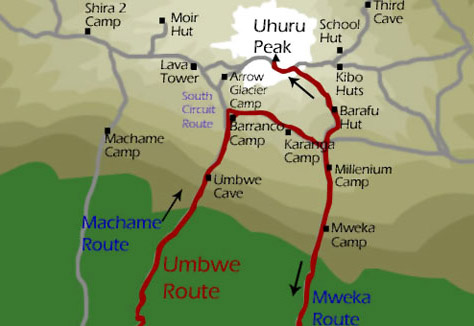 If you arrive at the Kilimanjaro Airport, you will be met at the airport and transferred to your hotel in Moshi or Arusha (airport transfer is not inclueded in the tour fare, $20/person/way from JRO, $50/person/way from DAR). We recommend at least one rest day before starting your trek. If you are transferring from Nairobi, this can act as your rest day.
Your guide will provide a briefing the evening before your trek, and you must separate one bag for the trek from your other luggage. Rental equipment is available. Extra luggage can be stored in a locked storage room at your Moshi hotel at no charge.
The next morning, enjoy a hearty breakfast before last-minute trip preparations at the trekking office. Depending on the route you take, the drive to the trailhead can take up to one hour and can be very bumpy.
Once you reach the park gate, climbers are requested to make their final preparations for the climb and sign the national park registration book. Porters will be seen arranging their packs containing the food, water, and other equipment. Make sure that you have all your day pack items with you as the porters travel very quickly. Your guide will be pleased to assist with any additional information.
The average hiking day begins between 8-9am and is about 5 to 6 hours, walking very, very slowly. The distances you will hike each day are very moderate so as to acclimate a little at a time. Your guides will repeat over and over, "pole pole" (po-ly, po-ly), which means "go slowly" in Swahili.
The terrain lower down is absolutely gorgeous and fascinating. Higher up, the views are vast. There is little to do at the camps themselves, so take advantage of the slow pace to absorb the scenery and take every photo opportunity.
The hike to the summit starts around midnight depending on your route and speed of your group. You will go as high as you feel fit. Some people stop at the crater rim, and others continue to the very highest point on the mountain. Your guides will then take you down as quickly as possible to minimize any altitude problems. You will continue past your last campsite to the next one for overnight.