The Horseback Riding Experience
Tour guides are or were experienced professional rodeo cowboys.
Tour guide will point out wildlife, describe and point out the historical areas, and for those that are interested, identify all the numerous wildflowers, herbs, trees and shrubs, that are encountered on the rides.
The trips are conducted near the Continental Divide of Eastern Idaho & Western Montana.
The Diamond "P" Ranch's guests mount up and leave right from the corral.
A short but comprehensive horsemanship and safety training session is provided before each ride.
Guests ride among the grazing livestock as they travel up into the high country.

Berry Picking
Many fall trails have edible berries that we can stop and pick. These include, wild raspberries, huckleberries, blueberries, elderberries, wild strawberries, service berries, thimbleberries, and many, many more. Our guides know which ones are safe, and they will recommend them.
Bird Watching
The fall rides usually encounter many unique birds. The ducks and geese are flocking together, getting ready for the flight south. The trumpeter swan, with their (8) foot wingspans are starting to associate with each other. (they're loners in the spring and summer) The male rocky mountain blue birds are showing of f their exquisite beauty. The hairy woodpeckers are working on the trees as we pass. A huge, magnificent, bald eagle can always be found in one of the old dead trees overlooking the creek that flows down through the south pasture.

Photography
Bring your camera and we will promise you some great pictures. The guides will be happy to take pictures of you in these beautiful surroundings. We encourage our guests to e-mail pictures and testimonies back to us. We always upload our guest's pictures on our testimony web page. Some of them are so good we just leave them there!
Wildlife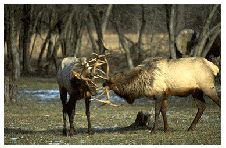 There is an abundant amount of wildlife in the area in which we ride. There is a possibility of seeing moose, wolves, deer, & mountain sheep, just to mention a few. We always see some wildlife, but we never see everything that is out there. If we were to sneak around, move with stealth, and never laugh or talk we would no doubt see a lot more, but then we would lose the true value of the ride. We somewhat know where the elk usually hang out, and we do make an extra effort to see or hear the bulls in the rut.
Other frequently seen animals include: elk, ducks, badger, geese, cranes, deer, coyotes, beaver, and bald eagles. There are some rarer animals as well, including bears, wolverines, and mountain lions.