Price In USD (Price per person based on double occupancy)
Single
Double(/person)
Third Person
Adult
Child
(Age 8-17)
$2422
$1704
$1170
$1533.60
Single
Double(/person)
Third Person
Adult
Child
(Age 8-17)
$2199
$1585
$1141
$1426.50
Single
Double(/person)
Third Person
Adult
Child
(Age 8-17)
$2422
$1704
$1170
$1533.60
Single
Double(/person)
Third Person
Adult
Child
(Age 8-17)
$2299
$1635
$1146
$1471.50
Single
Double(/person)
Third Person
Adult
Child
(Age 8-17)
$2199
$1585
$1141
$1426.50
Single
Double(/person)
Third Person
Adult
Child
(Age 8-17)
$2299
$1635
$1146
$1471.50
Single
Double(/person)
Third Person
Adult
Child
(Age 8-17)
$2422
$1704
$1170
$1533.60
Single
Double(/person)
Third Person
Adult
Child
(Age 8-17)
$2299
$1635
$1146
$1471.50
Single
Double(/person)
Third Person
Adult
Child
(Age 8-17)
$2061
$1526
$1112
$1373.40
Single
Double(/person)
Third Person
Adult
Child
(Age 8-17)
$2199
$1585
$1141
$1426.50
Single
Double(/person)
Third Person
Adult
Child
(Age 8-17)
$2106
$1526
$1094
$1373.40
What if my dates are not available or appear as sold out? Notify Me!
Pricing Policy
| Travel Protection | Date / Date Range | Adult | Child |
| --- | --- | --- | --- |
| Yes | Year round | $179 | $179 |
| Document Delivery | Date / Date Range | Adult | Child |
| --- | --- | --- | --- |
| Express - dep date is within 21 days | Year round | $25 | $25 |
Price: All Prices are in USD. Prices are per person based upon shared twin room occupancy. All prices are based on current exchange rates and are subject to change without notice.
Child Rate: Young travelers aged 8-17 receive a 10% discount on the land price. We regret that we are unable to accept children less than 8 years old on these types of vacations.
No more than 3 passengers allowed in room 1.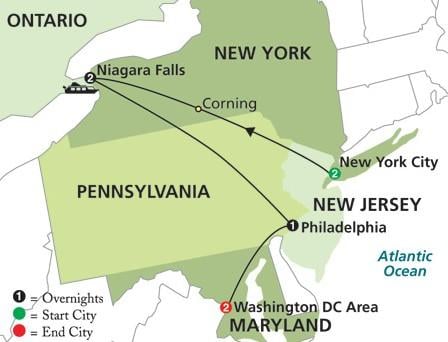 On this affordable vacation, arrive in "The Big Apple" and venture northwest through the Pocono Mountains to upstate New York. Cross the border to the Canadian side of the Niagara River and spend two nights in beautiful Niagara Falls. Enjoy a sightseeing tour of Niagara Falls, and board the Maid of the Mist for a thrilling boat ride to view the thundering waterfalls from river level. During your free time in Niagara Falls, perhaps visit the Butterfly Conservatory, Great Gorge Adventure, or Botanical Gardens, or ride the aerial cable car. Next, travel southeast through the Appalachian Mountains to the City of Brotherly Love—Philadelphia. Explore the birthplace of American independence on your Philadelphia sightseeing tour before moving on to the U.S. capital, Washington DC. Washington DC is a sightseeing treasure trove, and your tour highlights the well-known sites, such as Arlington National Cemetery and the Korean and Vietnam War Memorials. Your vacation ends with free time to explore Washington DC on your own before you head back to New York City.
Air fares Airport transfer: $20.00 per person
Optional tours, tips to guides, driver, and tour manager.
Items of a personal nature such as laundry, wines, water, beverages, food other than the table d'hote menu, passport and visa fees, insurance, airport taxes and fees, and foreign port taxes unless specifically indicated in the package inclusions
Click here to get more details about Travel Protection.
ST = Superior Tourist Class Hotels
F = First Class Hotels
If your departure date is within final payment date, we can only send your travel documents by Express Delivery.